Those who put up with my incessant chatter (or rants, depending how long I've gone without a run) on Twitter, know that I recently moved out of my home office and leased an office in town. This change was mostly due to my wife and I having a baby daughter a few months ago. I've taken most of this time as an extended paternity leave, but when it was time to do some work again, it was clear that working from home wasn't the ideal environment anymore.Having a separate office not only gives me the distraction- and interruption-free environment I need, but also gives me some much-needed separation between home and work. My office is about a mile away from home, so that makes for a very nice 15-minute walking commute (with the Macbook Pro in my backpack). It's also located right in the Carlsbad village, so it's a block or two away from tons of cool places to have lunch, grab a coffee, or even go to the beach for a quick break!
Here are a few pictures from the new office. Things aren't completely set up yet (that bare wall is waiting for some Flower Garden and Casey's Contraptions posters that should be arriving today).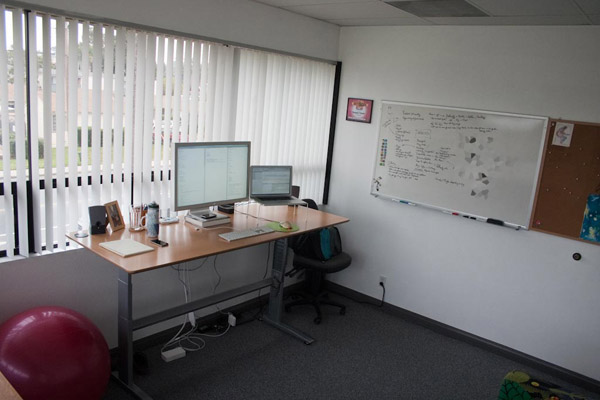 The thing I like the most about this office is the light. It's a corner office and it's aiming north, so that means great, indirect light all day long. Oh, and the windows can be opened to let some fresh air in. That might seem like an odd detail to mention to some of you, but you'd be surprised how many office buildings in the US have windows that can't be opened. Really.
Both desks are adjustable, standing desks. The main desk in the pictures is the large frame GeekDesk one. I used to have the small frame because I didn't have the room at home, but I love the extra space, especially with the 30″ display! I've kept the small desk to the side, that way I can invite other people to come work from here for the day (indie work day!) or even (gasp) hire someone if the right time comes.
The rest is pretty standard: whiteboard (I prefer use one much larger, but that's what I had around), bouncy ball (gotta have a bouncy ball!), and couch (pretty important to unwind, or just to take a break from standing all day).
So far, I'm very happy with this setup. Working from here is definitely invigorating, and the separation between work and home helps a lot in both locations. Maybe once our daughter is older and going to school I'll consider working from home again, but this is perfect for now.
What does your work setup look like? Post some pictures and let me know. I love seeing other devs work setups.