Aparently Santa came to town a little later this year. Or maybe it was the Reyes Magos (also bit late). In either case, I woke up this morning to find a very nice present waiting for me at my computer: Apple featured Flower Garden as an Apple Staff Favorite! Apparently this is in all App Stores worldwide too (I have confirmations for Canada and Thailand, so I imagine it applies to other territories as well).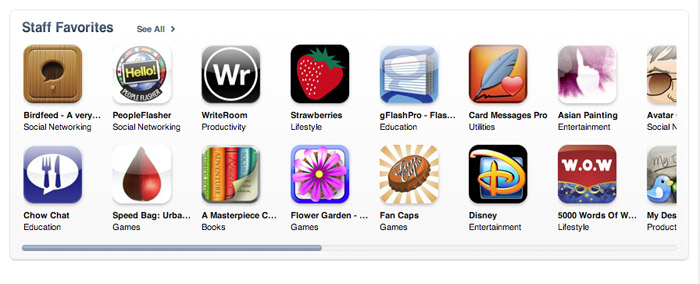 This is the first time Flower Garden has received any kind of "Apple love", so it's particularly exciting, especially considering that Flower Garden was released all the way back in April. I imagine the recent update, which included the Flower Shop with in-app purchases, must have caught someone's eye.
The only downside is that the featuring might throw off the sales data I was collecting to show the effect on sales that in-app purchases and the holiday season had. But I'm not really complaining. That's a very nice reason to have the data thrown off 🙂 Thank you Apple!