It's no secret that I like a good conference. Actually, I'm sure I can find something to enjoy even at a so-so conference. Each field has it's big, ultimate conference: For games it's GDC, for graphics SIGGRAPH, and for iPhone development WWDC. Those big conferences have the big announcements, the big crowds, and the big players. But the smaller conferences always have something a unique to them that the big ones can't compete against.
I'm going to say this very clearly so it doesn't get lost in the middle of a paragraph.
360iDev is the best conference you can go to if you're doing any kind of iOS development.
There. I've said it. And no, they're not paying me any to say that.
I'm clearly not the only one who feels that way either. Just earlier this week Mike Berg wrote a post about how awesome 360iDev is, and we didn't even compare notes. Great minds think alike apparently.
Yes, Apple puts the big show for WWDC. It's a unique experience: the keynote, the crowds, the unveiling of the latest technologies, the sessions, the labs… But in the end, it's a big show from Apple to woo its developers. You're getting the official message through very polished presentations. Which is fine, but it feels a bit… too polished. Too streamlined. Too overproduced.
Talk to developers who've been to WWDC multiple times, and you'll quickly find out that the parts they like best are the labs (access to Apple engineers) and the networking (some with Apple, but mostly with other attendees). That's why keeping track of the parties during WWDC is almost a full-time job!
For Developers, By Developers
360iDev on the other hand is a conference for developers by developers. You don't get fed the official party line. Instead, you get to hear how some API really worked (or didn't) in the trenches, how developers had to work around bugs, or, why not, how some technology was a dream to work with. Nothing like hearing it straight from the horse's mouth.
Strong Game Development Track
There are usually three simultaneous tracks at 360iDev: Business, Sights and Sounds, and Development Tricks. As you can expect, sights and Sounds is usually entirely devoted to games, and there's plenty of game-related info in the other tracks as well.
I'm going to be totally honest here: The quality of the sessions varies a lot from one to the other, and they can be somewhat hit or miss. When the presentations are awesome, they're really awesome. And on the average, I'd say they're very good. That's the flip side of not having a super-rehearsed, super-polished presentations like WWDC.
Hacker Vibe
You walk into WWDC, and you get a very strong corporate feeling (trying to be developer friendly). The moment you walk into 360iDev, it has a palpable hacker vibe [1]. The people presenting might not have the most polished slides, but they can do some amazing things on the iPhone. There are even presentations on the internals of the iPhone and what's going on under the hood, something you'll never get from Apple!
Game Jam
As a perfect example of the hacker mentality, the Game Jam has become a regular feature at 360iDev. On the last night, developers get together in a big rooms, and either flying solo or grouping into teams, they create a game prototype in a few hours. The next day at lunch, we have a big gathering and get to demo the games created the previous night to everybody. What a perfect (and exhausting!) last day to the conference!
It's Nimble And Agile
This might not seem like a big deal to some, but it's very important: 360iDev happens twice a year. Technology conferences that happened once a year might have been fine 10-15 years ago, but as the pace of technological advance continues to accelerate, once a year doesn't cut it anymore. Especially if you have to submit talk proposals 6-8 months in advance, they're old news by the time the conference rolls around.
360iDev is much more agile than that. It happens twice a year, and you only need to submit a general overview a few months in advance. Given the content of a lot of the talks, they probably come together just weeks (if not days) before the conference itself. That's part of the reason for the uneven quality of the talks, but it's a price worth paying.
Networking
360iDev is a small conference. I don't know the official numbers, but I think there are usually around 200-300 attendees. You'll be seeing the same faces all three days, especially the ones that share your same interests and end up going to the same sessions as you do. Even if you're a total introvert, you'll end up meeting a bunch of new, very interesting people, and creating lots of new possibilities for your future.
Even better, the speakers are part of that small number of attendees, and they get to hang out with everybody else. There aren't special VIP parties, or secret off-site invitation-only parties (if they are, they're so secret I missed them). Everybody hangs out during the sessions, at lunch, and the evening festivities. So if there's someone in the speaker list you particularly want to meet, this is your chance.
It's not just other developers either. The iPhone media often comes to the conference as well, so you might get a chance to talk to people from TouchArcade or TUAW.
360iDev three full days of sessions, one day of tutorials, one night of game jam, three evenings or parties, and one conference full of awesome. And that for a fraction of price of the big conferences. How can you go wrong? [2]
[1] I mean hacker in the good sense of the word, not in the "cracker", malicious one!
[2] If this doesn't convince Gavin and Craig to come to 360iDev, I don't know what will. Go buy the awesome Linkoidz so they'll be forced to attend 🙂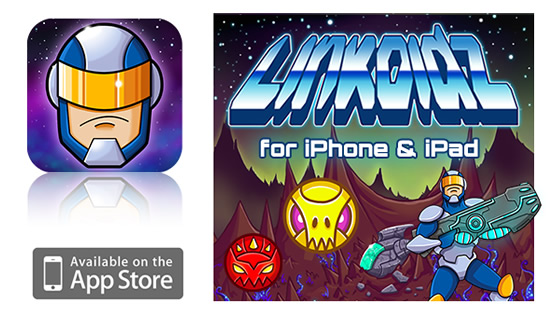 This post is part of iDevBlogADay, a group of indie iPhone development blogs featuring two posts per day. You can keep up with iDevBlogADay through the web site, RSS feed, or Twitter.